Hard PCB single key one button embossed membrane keypad with wiring 28 AWG Red 30.5m Reel
INQUIRY
Description
►Product name:
Hard PCB single key one button embossed membrane keypad with wiring 28 AWG Red 30.5m Reel
►Keyword:
membrane keypad,sigle button membrane keypad,PCB membrane keypad,PCB based keyboard,Rigid PCB membrane keypad,PCB based keyboard,PCB Based Flexible Membrane Keypad,PCB Mounted Membrane Keypad,PCB Membrane switch,single key membrane keypad,single membrane switch.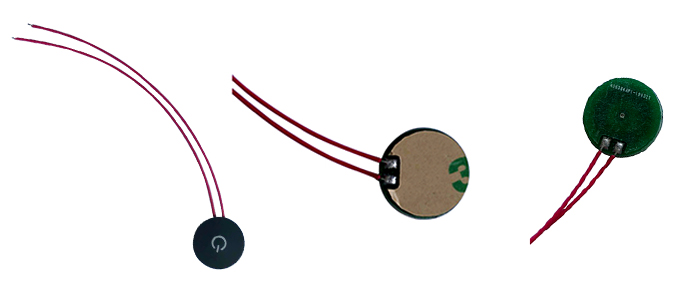 ►Specification
①Materials:
-Graphic overlay: Autotex F200
-Button embossed (outside)
-Metal dome (inside)
-PCB0.8mm thickness
-Spacer PC0.5mm
-Rear adhesive 3M467
②Dimensions:
- outside diameter 17.5mm
-Max total height 2.4mm
-Cable size 100mm
③Special requirements:
Extra glue on solder part for protect the cable from apart
RS cables: Alpha Wire High Temperature Wire 0.09 mm²CSA, 28 AWG Red 30.5m Reel, 2842 Series
④Application: mini controller
Advantages of PCB membrane keypad
LEDs can be soldered directly to the board for greater durability, and like all PCB designs, a wide variety of connector options can be utilized. The rear of the PCB is fully available for additional circuitry and can accommodate standard electronic components like resistors, capacitors, diodes and IC's.
One of the principal advantages of membrane switches is the wide variety of graphics that can be presented on the top overlay. That advantage is still available with a rigid PCB keypad. Custom elastomer overlays can be screen-printed with a wide variety of options to suit any application.
►Electrical performance
Wire Resistance

0.5mm width,<1Ω/5cm

Rated Current

<500mA,0-30V DC

Insulation Resistance

>100MΩ 250V DC

Working Voltage

<50V DC

0.2-0.4mm

Tactile Switch Stroke

0.4-1.0mm

Working Life

>0.5-1.2 million times

Working Temperature

-30℃-70℃

Working Humidity

40℃,90%RH No Influence

Substrate Voltage

1500V DC

Feed BackTime

10ms
Comply with ROHS & REACH
The above product information is for reference only, we can provide customized production according to the design requirements of customers.
►Optional material
►
Panel M
ount Guidance
►Related technology
①
Product introduction
②
How to design membrane switch
③
FLEXKYS QC Standards